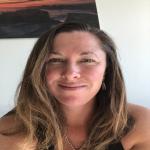 Broadjam Artist: Ashley Martin
Song: Black-Hearted Cowboy

Broadjam Pro Reviewer:
Jim Bruno (Songwriter)

Pro General Comments: Overall I liked the song and the demo. The song has a timeless quality to it and to my ears sounded like it could be a country/americana standard. The chorus and the verses work well with each other and the lyrics reflect the mood of the melody and vice versa. I especially liked the couplet "Ya now I'm tough like a broken glass shardHard and jagged and shattered and scarred". It really summarized the emotion of the song well. The title is also strong. Your understanding of song craft is evident in various ways including...Keeping your rhyming scheme consistent. Repeating your title in the song.Making sure that your song components are well differentiated from each other.

Quote From Pro: Ashley Martin is the kind of songwriter who writes from the heart. Her melody and lyrics will stick with you long after her song stops playing. Do yourself a favor and check her music out!