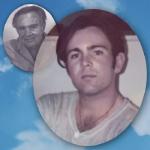 Broadjam Artist: Alan Lee Carpenter
Song: Broken Road

Broadjam Pro Reviewer:
Elizabeth Elkins (Songwriter)

Pro General Comments: This song is super cool, it had me interested right off the bat, until that guitar solo, which does not work for me. It should be a wild, cool synth solo - the guitar feels out of place and less melodic and interesting than the rest of this. You once again sound very English, a little folky, and also very Killers-y. This is a good thing because all of it feels familiar but yet I can't say you sound just like so-and-so, which is very important in creating an identity for yourself as an artist. People tend to like things that are just different enough but also remind them of something they can't put their finger on. You do that, mostly in your very very good vocals. I love the vibrato in your voice, and this is a unique, fascinating lyric that sets your voice in a great setting. I don't love the title, I think because it's very common. I know it feels like the hook lyrically, but a more imaginative title could peak interest in what you're doing on this one. One of my favorites you've sent in. Fantastic chorus melody too. If you don't already have a video, consider one -there's too much good imagery here to pass up.

Quote From Pro: Killer (no pun intended) vocal melody married to an imaginative, deep lyric - with a hook that will keep you dancing. A great scene-setter for a film, or one you'll want to hear a packed club.